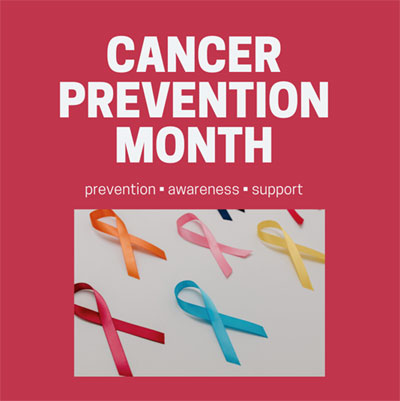 February was National Cancer Prevention Month. However, cancer happens every day of the year so we need to take precaution and preventative steps daily to stay healthy. In the United States, over 1.6 million people are diagnosed with some type of cancer and 600,000 succumb to the disease making it the second leading cause of death. Some of the top ten cancers in the United States include skin, lung, prostate, breast, colorectal, kidney, and bladder cancer. There are many steps an individual can take to reduce the risk of certain cancers. Prevention strategies can include protecting yourself from the sun, getting routine screening exams, exercise, and eating a healthy diet.
In the link below are seven tips on how to prevent certain cancers.
https://www.mayoclinic.org/healthy-lifestyle/adult-health/in-depth/cancer-prevention/art-20044816
Can Breast Cancer be Prevented?
The burning question many health professionals get asked is "Can breast cancer actually be prevented?" Although there is no sure way to absolutely prevent breast cancer, there are steps people can take such as regular screening mammograms, genetic counseling, and healthy lifestyle choices to reduce the risk for breast cancer.
The American College of Radiology recommends an annual screening mammogram. The Dallas / Fort Worth area ranks in the tope 5 cities in the U.S. with the highest incident of late-stage breast cancer. It's important to maintain annual mammograms and perform self-breast exams. Know your risk and know your breast. See if you qualify for assistance to get a free screening mammogram.
Make Cancer Prevention a Priority
Make every month a Cancer Prevention priority for you and your family. Eating healthy is one way to reduce your risk of cancer. A healthy diet consisting of fruits, vegetables, proteins, whole grains, and a little dairy can play a role in lowering your risk for cancer.
In the link below are six tips for reducing cancer risk with diet.
https://health.clevelandclinic.org/can-a-healthy-diet-prevent-cancer/