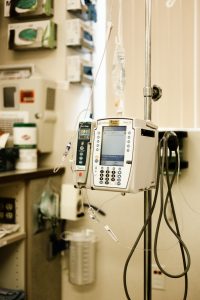 Whenever you go through chemotherapy, you can be assured your health team will make sure your physical comfort is a priority.
There will be medications that will be provided to help your side effects. Nurses will be sure to check on you often to make sure you are okay.
Chemotherapy infusion side effects varies from patients so we are going to suggest to bring a bag of items with you. It can ease any anxiety you may be feeling and keep you distracted. Here are SOME items we believe you should bring to your session's:
Reading Material: We have seen patients in the past bring books of poetry, journals, motivational books, novels, and prayer books.
Music/Podcasts: We suggest you to load up your iPod and phone with music, meditation apps, and podcasts.
Games: Bring a deck of cards, download game apps, or boardgames.
Comfy Clothes: We suggest you wear comfortable clothes like lounge wear, yoga pants, cardigan with a zip up feature, and a beanie. Infusion can make you chilly so just bring layers. Remember to bring layers of clothing that you take on and off easily. It's just to make sure they provide easy access to your port or your arm for the infusion.
Pillow: We suggest bringing a comfortable pillow to help make you feel more at ease during your appointment.
Writing Material: We have seen patients bring items like coloring books, Sudoku. and word searches.
Movies: Download your favorite movies because it will help pass the time.
Hydration: It's extremely important to be hydrated during your infusion, but there are many more drinks you can drink other than water. Be sure to ask your nurse what other drinks you can drink.
Personal Items: Everyone will be different, but some items you can bring include: toothbrush, your medications, socks, mouthwash (for dry mouth) and lotion.
Hardy Candy: Some patients can get dry mouth so sucking on a hard candy can be an easy solution.
We also found some items to gift anyone going through chemo:
One More Chemo Down Empathy Card, 1 Card, $4.50, EmilyMcDowell.com
Chimes Original Ginger Chews, 1 lb Bag, $25.94, Amazon.com
Great Bay Home Ultra Soft, Fuzzy Sherpa Stretch Knitted Bed Blanket, Twin Size, $32.99, Amazon.com
Chemo Warrior Tote Bag, $14.95, CafePress.com
Women's Dual Chest Port Access Shirt, $45, CareAndWear.com
Black Speckled Love Your Melon Beanie, $30, LoveYourMelon.com
Lymphedema Compression Sleeve, $14.99, Amazon.com
"I Am Strong" Teal Blue Low-Cut Notes to Self Socks, $12.99, NotestoSelf.com
S'well Vacuum Insulated Stainless Steel Water Bottle, 17 oz, $35, Amazon.com
*Thank you everydayhealth for the suggestions.