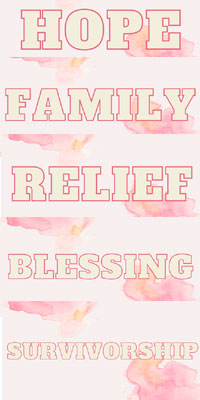 October is Breast Cancer Awareness Month. The Bridge Breast Network's mission is to provide access to diagnostic and treatment services for breast cancer to low-income, uninsured, or underinsured individuals in the North Texas area.
For October we asked The Bridge Breast's Network's staff to describe The Bridge in one word.
Terry Wilson-Gray, the Executive Director, chose the word HOPE. You must have hope to defeat breast cancer, and The Bridge provides hope for its clients and their families every day. Together we are building bridges of hope.
Gina Robinson, our Malignant Case Manager, chose FAMILY. Family does not only have to be those that are related to you by blood, but can be the people in your life that mean a lot and support you in your endeavors.
Elizabeth Guzman, our Malignant Case Manager, chose RELIEF. The Bridge Breast Network is a relief for many of the individuals whom we help. If Bridge Breast Network says NO, there's nowhere else to go.
Brenda Lucio, our Intake Coordinator/Patient Navigator, chose BLESSING. The Bridge is a blessing to clients with breast cancer. Estella stated that if it wasn't for the Bridge Breast Network, she wouldn't be able to afford her treatment.
Tamera Skinner, our Development Assistant, chose SURVIVORSHIP. The Bridge's services allow individuals to fight breast cancer and be survivors. The Bridge Breast Network wants women to not just to survive, but to thrive after breast cancer.
HOPE.  FAMILY.  RELIEF.  BLESSING.  SURVORSHIP.