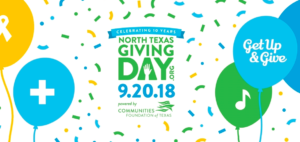 Communities Foundation of Texas' North Texas Giving Day is an 18-hour online giving event designed to empower every person to give back to their community by supporting local nonprofits and causes they care about in one easy-to-use platform.
The event helps build awareness and support for nonprofits like nothing else. In 2017, $39 million was raised through more than 137,000 gifts benefiting 2,723 local nonprofit, bringing the nine year total to $195 million for our community. North Texas Giving Day is the largest community-wide giving event in the nation.
In ten years, this online event has transformed from an idea to help raise awareness of nonprofits, to a movement that has ignited a broad culture of community-wide giving. During North Texas Giving Day, everyone has the opportunity to be a philanthropist to build a stronger and more vibrant community.
"The North Texas community is so generous, and the Communities Foundation of Texas' North Texas Giving Day is the perfect day to help our neighbors and invest in our local nonprofits. I'm happy to serve as the inaugural Honorary Chair of North Texas Giving Day. Please join me in supporting your favorite North Texas charities on September 20th."

                                                                                                                                                           – Laura Bush, Former First Lady
Help Us Reach Our Goal of $20,000
Your support will help save a woman's life
Please join us in building a bridge of hope by donating $25 or more to The Bridge Breast Network during North Texas Giving Day on September 20, 2018 from 6am – midnight. Your donation of $25 or more will be eligible for bonus funding. This will allow your dollars to go even further. The Bridge Breast Network is able to leverage every dollar received 10X the amount in medical services.
Let's Make This Our Biggest Giving Day Yet!!!
Please forward this Email to Family and Friends and show your support for our mission. Every dollar counts in the fight against breast cancer.
P.S. SCHEDULED GIVING OPENS SEPTEMBER 10
Not available on September 20? No Worries! Schedule your gifts to The Bridge Breast Network between September 10 and September 19.