Attorneys Serving the Community Luncheon
June 3, 2022 @ 12:00 pm

-

1:30 pm
Attorneys Serving the Community
35th Annual Luncheon Benefitting The Bridge Breast Network
Friday, June 3rd, 2022 at the Fairmont Dallas
Purchase Tickets or Sponsor the ASC Luncheon
Purchase Luncheon Tickets
The Bridge Breast Network has been selected as the beneficiary of Attorneys Serving the Community (ASC) fundraising efforts in 2022. ASC is a dynamic volunteer organization, comprised of around 400 women lawyers, judges, legal industry service professionals with J.D. degrees and law students from the Dallas/Fort Worth area. In lieu of an annual gala in October 2022, we will combine our fundraising efforts with ASC to generate funding for breast cancer services for the uninsured and underinsured in North Texas. Our combined goal is to raise $200,000 this year to support breast cancer detection and treatment services. Sponsorship and tickets sales are open.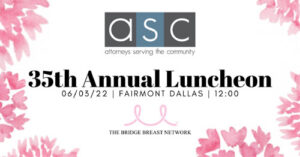 Camryn Manheim – Keynote Speaker
Jenny Anchondo – Mistress of Ceremonies
Patsy Yung Micale – Lead Chair DHS USCIS Office of the Chief Counsel
Maeghan E. Whitehead – Luncheon Co-Chair Griffith Barbee PLLC
Lifetime Achievement Award Presentation: Dr. Sally Knox (BBN Founder)
Janet St. James – Honorary Chair
2022 ASC Sponsorship Form (PDF)
Keynote Speaker
Camryn Manheim
Actress, activist, New York Times Best Selling Author
Acclaimed actress and social activist Camryn Manheim found success on her own terms. Known for her Emmy and Golden Globe Award-winning role on The Practice, Manheim is a fierce trailblazer on and off the screen. Shattering her critics' expectations and defining her career by versatility, determination, and a sense of adventure, Manheim continues to inspire legions of fans and audiences with her candor, humor, and story.
Author of the New York Times bestseller, Wake Up, I'm Fat, Manheim was named one of the "Most Intriguing People" by People magazine and "Woman of the Year" by Glamour. Her activism has included work with the ACLU, RAINN, Planned Parenthood, and the American Cancer Society. A breast cancer survivor herself, Manheim confronted the diagnosis as she does just about everything, with humor, curiosity, and courage.
Mistress of Ceremonies
Jenny Anchondo is a Emmy-Award-winning news anchor, host and reporter. She has worked for CBS, NBC and Fox at TV stations all over the country. Most recently, she was the co-host of the nationally syndicated show, Morning Dose.
Previously, Jenny worked as an anchor and reporter for top-rated Fox 4 news, serving as the single host of the Saturday and Sunday morning broadcasts.
Along with her husband Heath, Jenny co-hosts the Second Shot podcast, which is an inspirational and motivational show that takes a "second shot" at the news stories of the day. Jenny also works as a media coach and mentor to individuals and businesses looking to book interviews and effectively get their message across on camera.
She is a passionate volunteer and community servant. In addition to several philanthropic projects Jenny lends her time to, she has served on the boards for the Housing Crisis Center and Leukemia Texas. As a first generation college student, she is passionate about literacy and education. She has also served as a volunteer for Reading Partners, the Reading Seed and multiple other literacy-based organizations.
Honorary Chair – Janet St. James
Janet St. James goes by many titles: longtime broadcast journalist, healthcare executive, public speaker, wife, mother of 3, and metastatic breast cancer patient.
Janet worked as a television journalist for 25 years, 18 of them at Dallas ABC affiliate WFAA-TV, which she joined in 1996 as a general assignments reporter, covering a wide variety of stories from the Oklahoma City bombing to Hurricane Katrina. She covered the medical beat from 2000-2015 and was the first to break the news of a positive Ebola case in Dallas in 2014.
Janet left WFAA in March of 2015 to pursue a new career as Asst. Vice President of Strategic Communications for Medical City Healthcare, which includes 16 North Texas hospitals. In the week before starting that job, she was diagnosed with stage 2 breast cancer. In November of 2018, she was diagnosed with metastatic breast cancer for which there is currently no cure. She regularly blogs about her cancer ordeal on social media, hoping to educate and empower others about treatment and how a healthy attitude, education and honesty can make a difference.